$nbsp;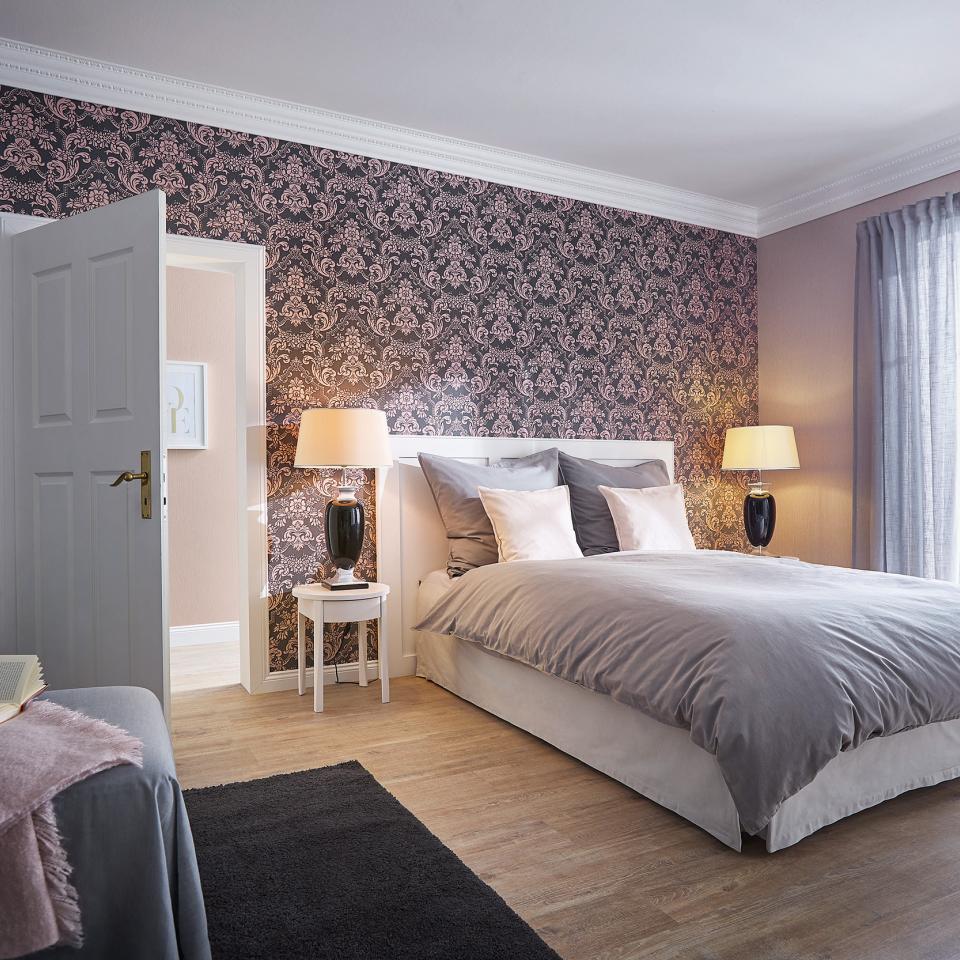 As beautiful as the city of love.
A little luxury here, a little Parisian chic there. The French style of living can move in with us. It's good that this collection is so glossy and has that stylish twist with its shimmering and velvety looks. Sometimes with baroque ornamentation, sometimes with embroidered patterns, the wallcovering designs charmingly set the scene for the walls of living rooms and bedrooms. If you prefer a more straightforward look, Trianon also has an elegant stripe in its repertoire, which can be easily combined with the many unifolds. These include soft powder tones and pale shades in blue or grey. But a warm Bordeaux red and a strong golden yellow are also essential. After all, France is known for its royal treasures, the nostalgic lustre of which beautifully blends into modern homes. You simply have to try it!
This is what adorns the wall
Enthusiastic interlaced motifs can now move in with us. The flowers and leaves unfold beautifully against the fine fabric background and spread a naturally sophisticated ambience.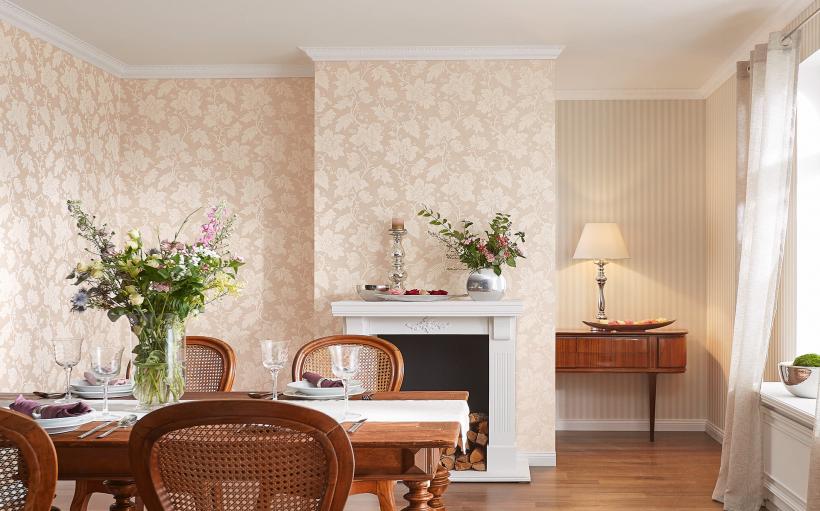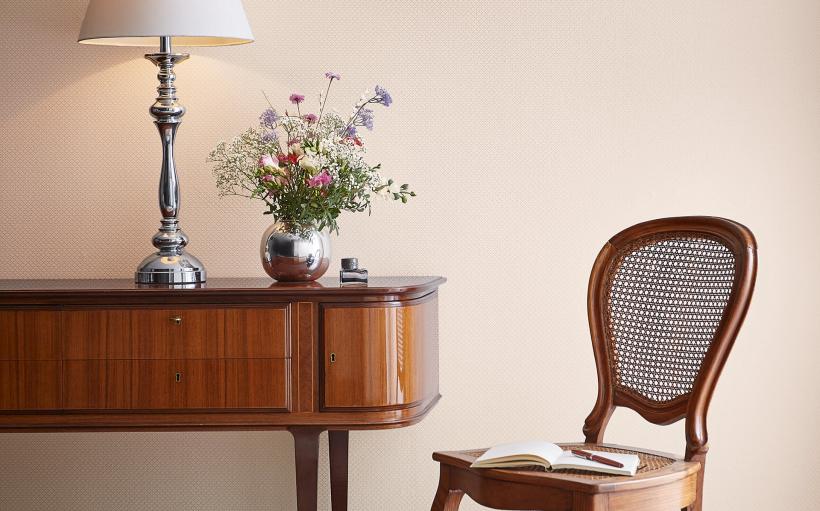 A fine thing
Delicate and filigree, the wallpaper pattern that quickly feels at home on any wall. Thanks to the fine knitted structure, the design looks homely but timelessly elegant. A wallpaper that offers a lot of design freedom. One that you would like to have around for years.
How majestic
With graceful hues, the silky ornamentation adds regal radiance to living room and bedroom walls. A classic baroque pattern that never seems to go out of style. This graceful, detailed and homely design is perfect in any home.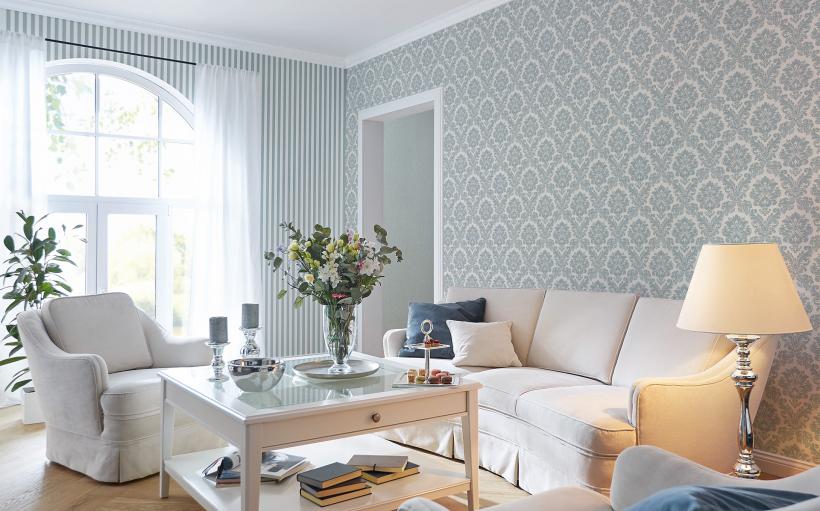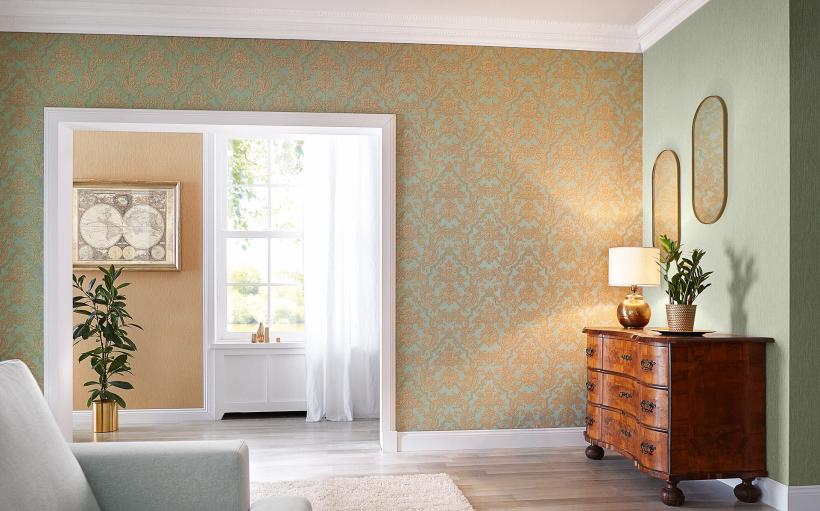 French flair
If you want to add a little more, it's important to think about the ornamental trend. The pattern is ideal for putting individual walls in the spotlight or for adding cosy French flair to small rooms.
The stripe is the star
This wallpaper is particularly elegant. While one stripe has a smooth surface, the other stripe consists of a fine fabric border. A change in texture that gives rooms an individual character – but always remains modest and reserved.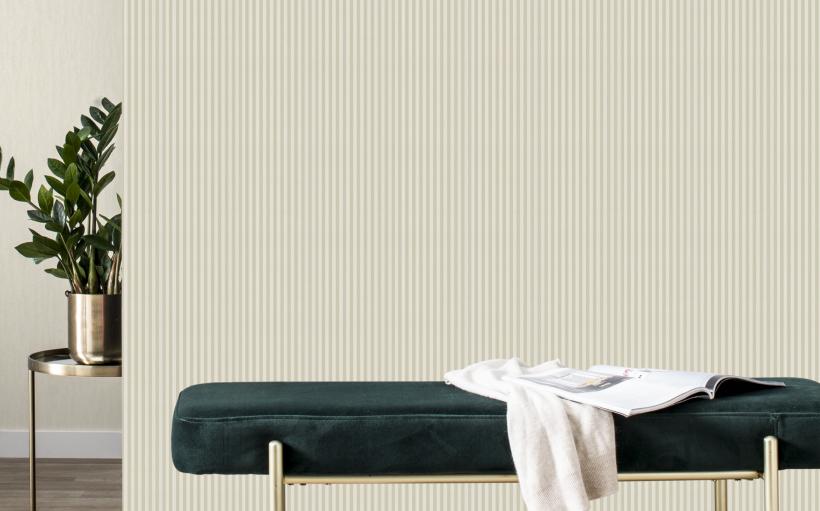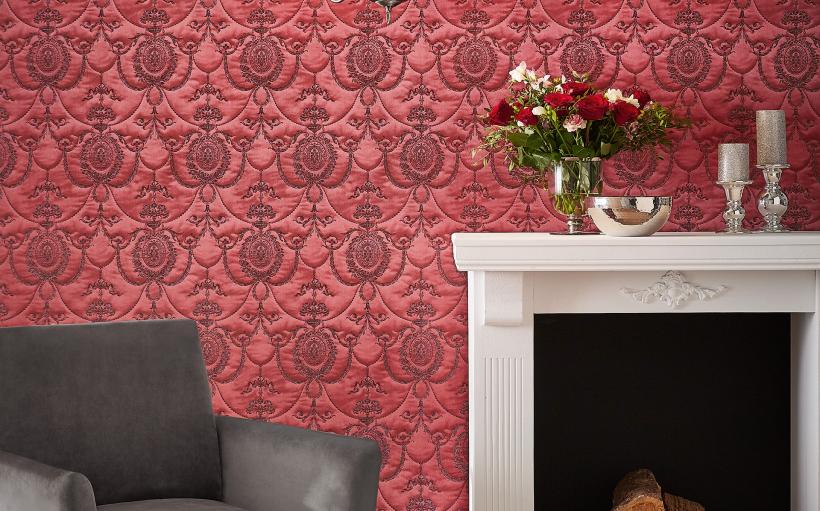 Haute couture for your wall
If you want to bring a piece of Paris into your home, this design will be a rapid success. A motif with baroque charm, fine embroidery and ornamentation in iridescent pastel colours quickly says adieu to everyday drabness and warmly welcomes the French style of living.
What bright prospects
It doesn't matter where the light beige wallpaper design ends up. With its soft texture and delicate shimmering effects, it makes a good impression in living rooms and bedrooms alike. It's perfect for redressing individual walls or combining the block-colour wallpaper with the patterns from the collection.